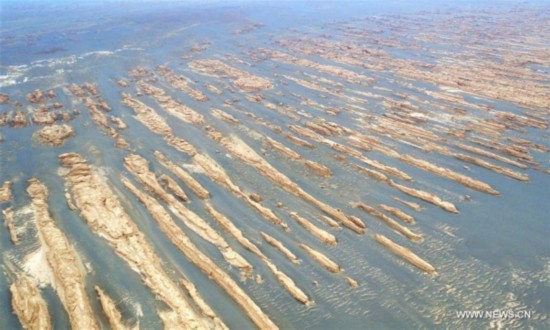 The Yadan National Geological Park is seen in Dunhuang, Northwest China's Gansu province, Sept 8, 2016. [Photo/Xinhua]
Yadan National Geological Park
About 180 km northwest of Dunhuang, Yadan National Geological Park occupies an area of about 398 sq km and is the largest yardang landform found so far. Yardang are unique landforms, carved from bedrock or formed through erosion, that look like ridges, towers or dunes that protrude from the floor of extremely arid regions. The park is also called Devil City, because visitors describe the noise of the strong wind whistling between the Yardang as sounding like the devil screaming. The area is great for hiking.
Suoyang City Ruins
Founded more than 2,000 years ago, Suoyang City was an important landmark on the ancient Silk Road, and one which held a key role in the politics and the economy of the area during the Western Han Dynasty (206 BC-AD 24). Located in Guazhou county, Gansu, Suoyang Ruins is one of the largest and most well-preserved ancient sites in China with the city's defense structures still standing and its irrigation system in good condition.
Big Sugan Lake
Located in the Kazak autonomous county of Aksay, Gansu, the Big Sugan Lake covers an area of about 101 sq km. The lake is known as a paradise for migrant birds and, as well as keeping tabs on the avian inhabitants, visitors can also experience the feeling of roaming the nearby grassland on horseback like true Kazaks.
Da Qaidam Salt Lake
Da Qaidam Salt Lake in northern Qaidam Basin in Qinghai province is known for its liquid and solid boron resource. More than that, pinnoite-rich sediments that occur in the lake, are a global rarity.
Mount Kunlun Geopark
Mount Kunlun Global Geopark is 90 km from Golmud city, Qinghai. It covers an area of 1,403 sq km. The park is endowed with abundant geological attractions that provide evidence of complicated crustal movements and ocean-land conversions. With magnificent glacial and permafrost landforms, it is an ideal place for research on landscapes. Tibetan gazelle, goat antelope, wild yaks, argali sheep, blue sheep and ibex can be found spread throughout the range.
【1】
【2】
【3】
【4】